Last month masa hantar adik ipar nikah, aku dan hubby teringin nak imbau memori zaman bercinta muda-muda dulu. Dulu berdua, sekarang ni dah bawak anak-anak. Hehehe... Maybe bole jadikan aktiviti setiap 5 tahun. Syok gak. Actually we all sama universiti tapi lain kampus. Aku di Kuantan dah hubby kat Gombak. Jauh gak kan. Port berdating kat Kuantanlah. Kadang-kadang je aku turun KL.
UIAM Gombak. Tempat hubby belajar.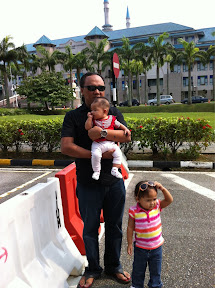 Encik hubby dan anak-anak. Termenung jauh nampak. Tengah pikir apalah tu. Tak sangka dah tua kot.
Susah betul nak suruh budak-budak ni posing depan kamera
Sampai Temerloh, singgah makan ikan patin dulu. Our favourite food. Singgah r&r je. Tak masuk bandar Temerloh macam dulu-dulu.
Sampai Kuantan, kami check in di VIstana hotel.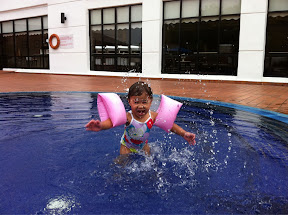 Yeay!!! Sofea excited mandi kolam. Tu memang aktiviti wajib bila duduk hotel.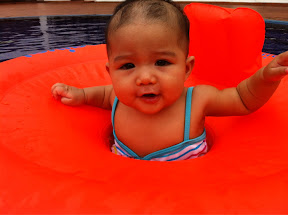 Si kecik ni pun nak mandi kolam gak.
UIA Kuantan dihatiku. Eceh... Hubby aku ni duk layan je bila aku ajak bergambar kat pintu gerbang ni.
Pekena seafood di Tg Lumpur that night. Dulu masa student mampu makan ikan aji-aji je so kali ni makan ikan tu jugak. Tempat lain susah jumpa.
Kesian Diana. Jadi tukang tengok je.
Esoknya, pagi-pagi kitorang dah pegi Pantai Teluk Cempedak plak. Ingatkan nak jalan2 kat tepi bukit sepanjang pantai tu. Tapi rupanya dah tutup. Banyak monyet.
Lepas majlis persandingan adik ipar aku, kitorang sempat lagi pegi Kemaman. Nak makan satar, otak2 dan keropok lekor. Dulu honeymoon pegi sini gak. Kitorang ni macam takde tempat lain nak honeymoon kan. Balik-balik Kuantan.
Sedap jugak satar ngan otak-otak kat sini. Recommended!
Nyam... Hubby terpaksa suapkan sebab aku kena pangku Sofea yang tido. Tak syoklah Sofea. Orang jalan-jalan dia tidur plak.
Tengok Diana, happy je dapat jalan.
On the way balik Kuantan semula, singgah bergambar kat Suria Cherating Resort. Tempat berhoneymoon. Tak syoknya, Sofea masih tidur. Jadi Kak Ida pun excited bergambar sekali.
Singgah rumah Syera yang cantik gak. Tapi bukan kat Kemaman ye. Ni bila dah sampai KL.
Itu sahaja kisah imbau nostalgia kami. Dekat-dekat aje. Tak adalah sampai ke oversea pun. Hehehe...